Submitted by Tyler Durden on 11/23/2015 - 23:30
"Warning: airstrikes are coming. Oil trucks will be destroyed. Get away from your oil trucks immediately. Get out of your trucks and run away. Do not risk your life."
Comments: 359 45,532 Reads
http://www.zerohedge.com/news/2015-11-23/get-out-your-trucks-and-run-away-us-gives-isis-45-minute-warning-oil-tanker-strikes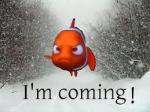 Realist - Everybody in America is soft, and hates conflict. The cure for this, both in politics and social life, is the same -- hardihood. Give them raw truth.