In a rare maneuver allowed under Arkansas law, Lieutenant Governor Mark Darr, a Republican, signed the bill into law while Democratic Governor Mike Beebe was attending a National Governors Association meeting in Washington.
I like this "bipartisan" move in ARkansas!
http://news.yahoo.com/arkansas-makes-gun-permit-records-private-under-law-015432064.html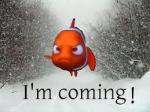 Realist - Everybody in America is soft, and hates conflict. The cure for this, both in politics and social life, is the same -- hardihood. Give them raw truth.